And the largest database of travel companies offering Military Discounts.
This website and service is dedicated to the men and women of the finest military in the world!
For Space-A Travel select U.S. Directory or Overseas Directory on the menu to get started.
The 'Purple Heart Cruise' for Combat-Wounded Veterans November 7th, 2020 – For EIGHT days!
For more information: http://www.purpleheartcruise.org/  FREE cruise for eligible veterans!  Come sail with us!
Scroll to the bottom for 'Lost Traveler' Contest!
Featured Military Travel Specials!
CruisinBob, a veteran-owned travel agency, specializing in cruises offers the best reviews, insights, and planning to maximize your cruising experience.  Ask him for your Military Discount on these Cruise Lines.  Book through CruisinBob at 404 408-5196


EXCLUSIVE OFFER FOR MILITARY MEMBERS EXTENDED THRU DECEMBER 2018  FOR DISNEY PASSES
Military tickets are now available exclusively for military members and DOD Civilians. This ticket will only be available through ITT and Leisure Travel Offices including Shades of Green. Also available at the gate but will be taxed.
Tickets are printed right in the office!!!
WDW 4 Day Park Hopper $207 with water park options
WDW 5 Day Park Hopper $222 with water park options
· Offer Dates: Purchase now through Dec 15, 2017 and completely use by Dec 19, 2017; blackout dates apply 9-23 April 2017
· Eligibility: US Active Duty, Retirees, DOD Civilians (Foreign Affiliates and Contractors not eligible)
· Tickets must be ACTIVATED at any Main Entrance window with a valid ID presented by the military member or military spouse; military member or spouse MUST accompany the party to the Pass Sales window for first activation of the tickets and use one of the tickets. Tickets will expire 19 DEC 2017!!!
· DEPENDENT CHILDREN CANNOT ACTIVATE TICKETS ON THEIR OWN!!!!!
For more information contact
Sue Short
Information Ticket & Travel Office
Dobbins ARB, GA 30069
678-655-4797 (Voice)
Military Only Travel and Auto Europe have teamed up to offer a 'Military Discount' which offers an additional 5% off on all online rentals.  Use code: 99912002. This number can also be used when you call  Auto Europe  (1-888-223-5555) but you must request the discount and provide the code.
Free Annual Pass for U.S. Military at U.S. National Parks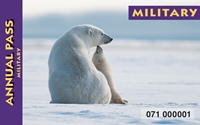 Available to U.S. military members and dependents in the Army, Navy, Air Force, Marines and Coast Guard and also, Reserve and National Guard members.
Must be obtained in person at a Federal recreation site by showing a Common Access Card (CAC) or Military ID (Form 1173).
With presentation of valid identification, Active and Retired U. S. Military will receive:
General Admission: Free for Military and spouse; Half-price for up to 4 guests in same vehicle per day (Guests include, but are not limited to, dependents, extended family and friends)
Special Event* Admission:  Half-price for Military and up to 5 guests in same vehicle per day
New Military Friends & Family Annual Pass Price
We are pleased to now offer Military families the opportunity to purchase an Annual Pass at half-price.  A Military Friends & Family Annual Pass will allow the passholder and up to five additional guests per day in the Gardens for free on General Admission days and half-price on Special Events* days for one calendar year as well as a host of additional benefits.  For more information, visit www.callawaygardens.com/annualpass.  
New Special Admission Price for Veterans
Also, we are pleased to now offer half-price admission, versus full-price, for U. S. Military Veterans.  With proof of service, such as a state issued Veterans Drivers License, VA card, American Legion card or proper paperwork, Veterans will receive:
•    General Admission:  Half-price for Veteran; Guests full-price
•    Special Event* Admission:  Half-price for Veteran and up to 5 guests in same vehicle per day
Make reservations online with the links above or call 1.800.CALLAWAY (225.5292) and mention Patriot Package.
World Wrestling Entertainment is offering all U.S. military personnel free tickets to its Live Events worldwide as another way for the company to show its gratitude for their service to their country.  U.S. military personnel from the Army, Navy, Marines, Air Force, Coast Guard and National Guard can claim a free ticket to any WWE RAW or SmackDown Live Event in their local area — excluding WrestleMania — by going to their local arena box office with a military ID the day of the WWE Live Event. Tickets are available the day of the event while supplies last.
Tellus Science Museum in Cartersville, GA offers FREE admission to all active duty service members.
'Lost Traveler' Contest! – On hold

.
Where is our 'Lost Traveler'?? Played frequently, our next game will start shortly.  Make a guess – Win a Hawaiian print T-shirt.  'Contact Us' and submit your guess/answer, or go to our Face Book page and submit your guess there.
To submit your answer, send us an email!
Previous winners:  Location Identified.
July – Pat B. of Huntsville, AL  (Nellis AFB, NV)
August – Sharyn H. of Marietta, GA  (NAS Pensacola, FL)
September – Dave B. of San Francisco, CA  (AT&T Park, San Francisco, CA)
October – Linda D. of Tavares, FL  (Navy Yard, Washington, DC)
November – Alan R. of Lihue, Kauai, HI  (Big Bear Recreational Facility, CA)
December – Stephen G. of Camp Lejeune, SC  (US Naval Academy, Annapolis, MD)
2014
January – Harry D. of Jackson, TN  (Marine Corps Logistics Base Barstow, CA)
February – Mike D. of Red Bluff, CA  (Moody AFB, GA)
March – Jesse G. of Fort Hood, TX (Robins AFB, GA)
April – Stephen D. of Redstone Arsenal, AL (Fort Huachuca, AZ)
May – Eugene S. of Honolulu, HI (MCB Hawaii)
June – Thomas B. of Yuba City, CA ( Las Vegas, NV)
July – Brian M. of Phoenix, AZ (Luke AFB, AZ)
August – Thomas O. of Concord, CA (Fort Bliss, TX)
September – Bryant V. of Marion, TX (NAS Corpus Christi, TX)
October – Maxwell W. of Tucson, AZ (Pima Air & Space Museum, AZ)
November – Sandy K. of Heceta, OR (Winslow, AZ)
December – Deanna S-V. of Junction City, KS (Randolph AFB, TX)
2015
January – Michael L. of Jacksonville Beach, FL (Little Rock AFB)
May – Pam B. of Kodiak, AK (Picacho Peak, AZ)
June – Bob B. of Mabelton, GA (Grand Turk Island, Bahamas)
July – Paul H. of Tempe, AZ (Neon Museum, Las Vegas NV)
August – Walter F. of Kapolei, HI (Makapuu Beach -Rabbit Island)
November – Lisa C. of Waimea, HI (PMRF Barking Sands on Kauai)